Their will be immortalized in news reports around Phuket. 
"We were clearly out numbered, but we had a mission, we came we saw we soaked" said the commander and last standing officer of the W.A. Sandgroppers... 
News Report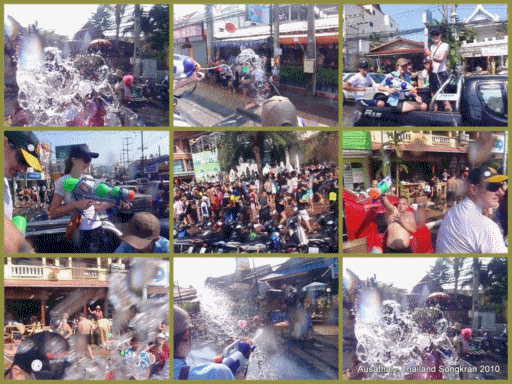 This bandit bunch surprised so many with the display of devilish skills and relentless stamina.

 

They not only conquered Phuket, they went on to Bangkok and embraced almost all she had to offer, inspite of the Political volcano that entombs Thailand's Tourism Industry.
 PHOTO ALBUM  - SEE LINK BELOW
The Songkran festival begins from the far North (Chiang Mai - 8th) and drips it's way down to Phuket (13th), then across to Bangkok (15th), then into the South East (Pattaya 18th).
It's a Magical event for many of the 66 million and not to mention the millions of Tourist that migrate for this "must do" event.
It's sad to see Siam in political wars which have rendered loss of life (rare in thai culture) yet it must be said Songkran is not finished and already the death toll is nearing 300 and many thousands injured … so please keep values in prospective and watch your step! (be careful out there) …
Travel Schedule
We have embedded a 3rd party website. If the window does not display or you prefer a larger screen 
click here
(in the window below, click the icon 
for full screen view) 
---
Travel Diary
Photo Album
View the travel diary (Phuket & Bangkok) see this  Forum article, includes
Travel tips, tour events, photos and soon a tour video
Don't miss out on next years Tour .. seats are limited